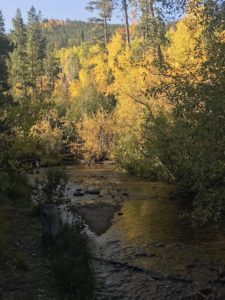 Fall is beginning to come to an end in the High Country. We have had some amazing days, filled with golden and orange hues and incredible 60 & 70 degree weather. However, the days are now marked with a little bite; it was only 36 degrees this morning in Frisco and our high is expected to be 58 degrees today, the perfect time to pull out all the sweaters, gloves and hats.  The wind the last few days is making quick work of knocking the leaves from the aspens. Soon our streets will be lined with snow and the countdown to the winter season is highly anticipated by many.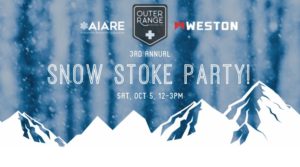 Outer Range Brewing in Frisco is having their 3rd Annual Snow Stoke Party and can release today from 12:00pm – 3:00pm. Head over and celebrate the return of snow while sampling two new IPAs, along with food, coffee, avalanche dogs, ski & board wax & tunes and new gear demos. Is there a better way to spend this gorgeous autumn afternoon?
The Summit Daily is ru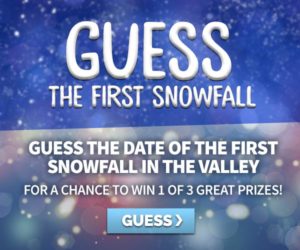 nning a contest to guess the first snowfall. Get your predictions in for the date of the first snow fall and the amount of snow at the Summit Daily snow stake in Frisco. You could win barre classes, a ski or board tune, or lift tickets. Hurry though, entries close on 10.14.19.
Resort Opening Dates
While Breckenridge and Copper Mountain Resorts are planning opening days on November 8, 2019, Arapahoe Basin and Keystone are in a snow making battle to see who can open first. With Keystone's recent upgrades to snow making equipment, they may just give Arapahoe Basin and Loveland a run for their money. However, the Basin is expecting to open mid October, some sources saying October 11th, which may or may not best Keystone's tentative 10.25.19 date. The race is on! We'll soon see who's first this year.
How are you anticipating the return of snow? Have you picked a pass yet? Or do you prefer another way to recreate? Let us know!