This past week kicked off the 30th Annual International Snow Sculpture Championships in Breckenridge, CO at the Riverwalk Center.
What to Expect
On January 20th, teams from around the world started hand carving 20-ton blocks of snow into incredibly intricate works of temporary art. Eleven international teams – Argentina, China, Ecuador, France-Normandie, Germany, Great Britain, India, Mexico, Mongolia, Switzerland, and Turkey – along with five teams from the USA – Wisconsin, Vermont, Alaska, Breckenridge, and Minnesota – worked diligently for 5 days (96 Hours) to construct their masterpieces. On Friday, January 24th, judging and viewing began.
Aren't they Ice Sculptures?
Nope! Ice scul
ptures are made from ice. Breckenridge hosts sculptures made from snow. Ice sculptures are created using special power tools on large blocks of ice and typically are moveable. That's why they appear at fancy dinners, weddings and galas. Snow sculptures, on the other hand, are created using hand tools from huge (20 ton) blocks of snow, and once they are in place – they stay put!
How to Get There
With parking at a premium on a good day in Breckenridge, we highly encourage taking the Summit Stage, the county's free bus service. You'll get to Breckenridge with the least amount of hassle and the Village stop is in close proximity to the sculptures. Make your way back to the Breckenridge Station on any of the Breck Free Ride buses and you can connect with the Summit Stage to anywhere in the county!
When to Go
The sculptures will be on display until 7:00pm on Wednesday, January 29, 2020, so anytime before then is the best time to see them. Our favorite time of day is in the evening, when the sculptures are illuminated and colorful. There is also a warming hut inside the Riverwalk center, perfect for when fingers get chilled from snapping photos. Inside you'll see 30 years of photographic history for the event, and learn all kinds of fun facts. For instance, did you know that the snow for the sculptures is made by Breckenridge Resorts to exacting specifications?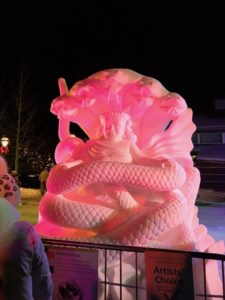 Make sure you get to the snow sculptures before Wednesday, January 29, 2020, next year they won't be returning! "With the planned closure of the Breckenridge South Gondola lot starting May 2020, the 2021 International Snow Sculpting Championships presented by Toyota will transform from the event's historic format to focus on one mega snow sculpture. Master-sculptors will be selected from winning teams from around the world to come together and create the sculpture, World Piece."
Let us know which ones are your favorite! We like Team Wisconsin's "Duality of the Soul" which took third place.