Ongoing education is essential in all career fields, especially in Real Estate. It's how agents stay up to date on regulations, contract changes, market fluctuations, and key issues facing the real estate industry.
I am proud to announce that I recently invested in and achieved the designation of Certified Luxury Home Marketing Specialist.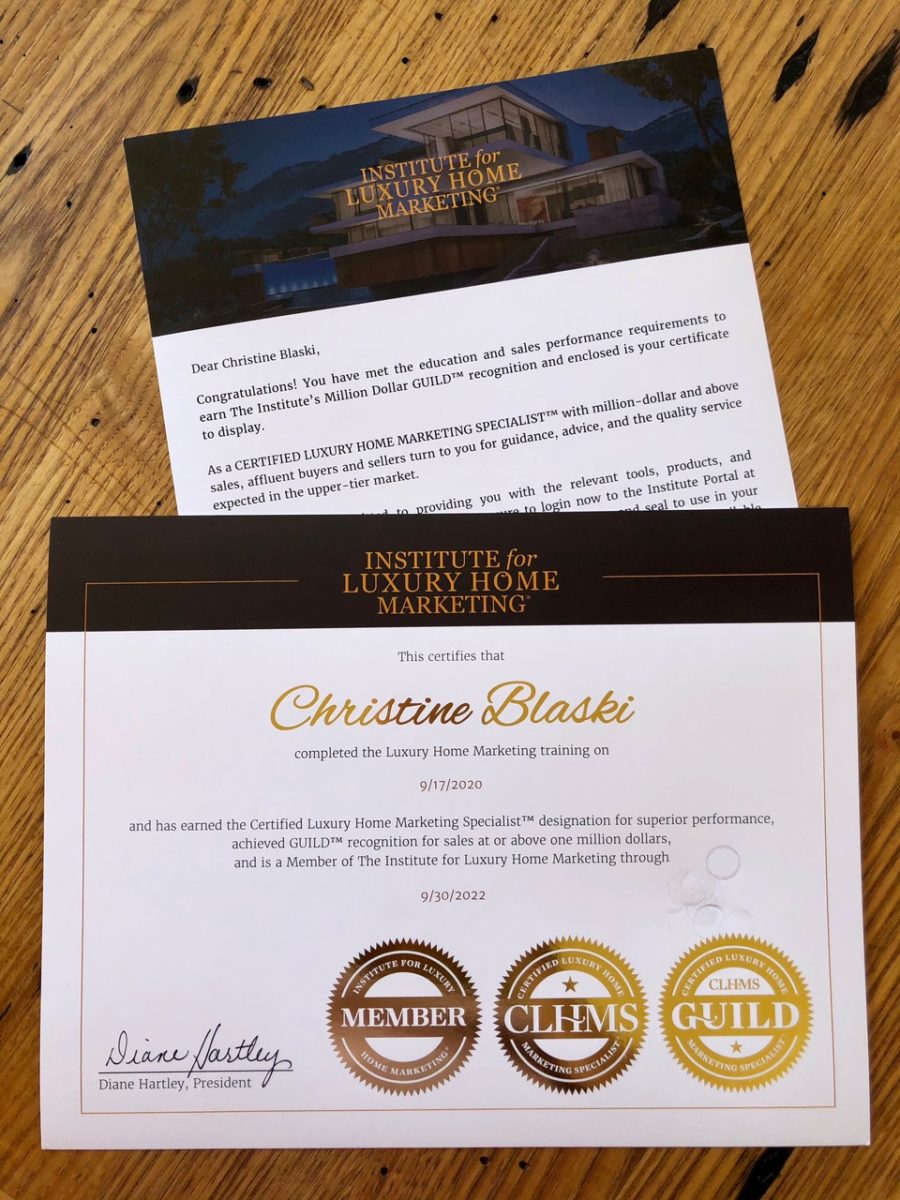 What is the Certified Luxury Home Marketing Specialist (CLHMS) designation?
The CLHMS designation, owned and registered by The Institute for Luxury Home Marketing®, recognizes residential real estate professionals who have demonstrated their experience and proficiency in working with the affluent customer. The Institute only awards the recognition to professionals who have provided verified and notarized documentation of performance reflecting sales in the top 10% of their given market.
"The Institute has one of the highest standards for the definition of 'luxury' within the residential real estate market. Agents who earn and hold our CLHMS designation are proven and experienced real estate professionals working the upper-tier," said Amanda Hammer, Director of Membership at The Institute. "Affluent buyers and sellers should seek out sales professionals who have this designation and be confident that they have the specialized expertise and experience to successfully represent them in their residential real estate transactions."

Why is an agent with the CLHMS designation is important for you?
The real estate market in our mountain community is unique to say the least! We are currently experiencing extremely limited supply, high demand, and higher than ever home values. But that doesn't mean just listing your property will attract the right situation for you. I specialize in attracting the right buyers, those qualified to see the deal through, for your property. I appreciate the distinctive qualities of our mountain homes, no matter the price point, and am able to appeal to the styles and tastes of those searching for their perfect mountain getaway. Understanding the philosophy of buying, coupled with listening to the needs of sellers (and buyers), results in the most advantageous contracts for all parties. That is what having me on your team will attract.
Have you been considering capitalizing on the current home market and have questions? Call me today to talk about your specific questions or concerns! Also check out our blog from earlier this month: Is the Real Estate Market Going to Crash?