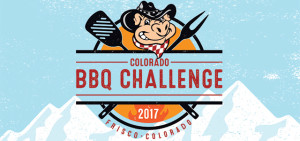 Today is the day! The 24th Annual Colorado BBQ Challenge gets underway at 11:00am and you can already smell the smokers cooking away. You can pick up a schedule of events in today's Summit Daily News, click the link above or "like" the Facebook page for the Colorado BBQ Challenge to stay up to date.
Before you set  out to enjoy all the great attractions at our town's annual two day party, there are a few
things we should review. First, please leave your fur babies at home. This is a no pet event and really, why would you want to torture your furry one with all the delicious food smells, heat, music and 30,000 people? The high today and tomorrow is expected to be about 76 degrees and sunny, your pet is going to be extremely uncomfortable in the car, so please leave them at home or if you're visiting, try out one of the great doggie daycare places in town. Check out the Breckenridge Dog House and the Dillon Dog Den for starters. We LOVE dogs in Frisco and there are plenty of events they are welcome to attend, just not this one.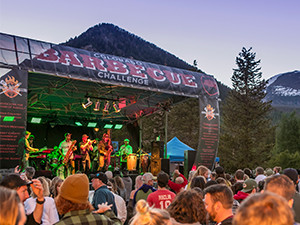 Second, parking is a challenge. Main street is blocked off from Madison (the 4 way stop by the post office) to 6th Avenue (in front of the Snowshoe Motel), you will be detoured to Granite Street. PLEASE use caution on Granite St. We see crowds up to 30,000 people so there will people walking EVERYWHERE. Your best bet for transportation is to take the Summit Stage (it's free!) and then you can partake in all the BBQ has to offer, like those margaritas at the Senior Center's tent. If driving is your best option, then take advantage of the free lot at the Summit Middle School, 158 School Road Frisco, CO, and utilize the free shuttle to Main Street. The Shuttle runs from 11:00 – 9:30pm today and 10:00am – 6:30pm Saturday and it will drop you off and pick you up on 1st or 5th Avenue. Now that is easy! For more facts and directions check out the FAQ page for the event.
Are you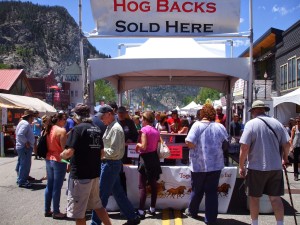 ready to get out there and try some BBQ? When you arrive on Main Street, the first thing you want to do is get your Hog Backs. Hog Backs are the ONLY currency accepted at the BBQ and are used for everything. 1 Hog Back = $1.00. You'll want to start with a minimum of 20 Hog Backs per person, most items start around 5 Hog Backs. Hog Backs can be purchased at tents on 1st, 2nd, 4th and 6th Avenues and if the line is short, make sure you jump in it!
OK, some final tips and you should be ready to go! You will be walking A LOT on pavement, wear comfortable shoes. Dress in layers, you'll want to stay cool but, having a long sleeve shirt or light weight jacket will be valuable when you've gotten too much sun (sh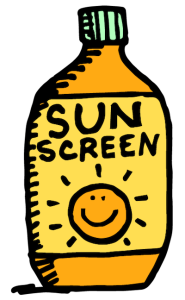 ady spots are few) and when the sun begins to go down. Have a hat and sunscreen handy, you'll need to reapply the sunscreen throughout the day and the hat is great for a little additional cover. Stay hydrated, and not just with beer. Bring a water bottle and refill it at the water refill station on 2nd Avenue, we have great tasting water in Frisco so there is no need to buy it. One final thing, bring your patience! With so many people enjoying this beautiful weekend, you will wait in line, go nowhere quickly and be in very close company at all times. Decide right away you're good with that and you will have an awesome time.
Tonight you can catch the New Orleans Suspects from 6:00 – 8:30pm at the music stage on Madison and Main. We'll leave you with a video to get your day going and set the mood, "Let's Get it Started" and we'll see ya on the street! Enjoy the day.
Save
Save
Save
Save
Save