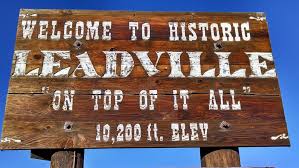 Have you been waiting for an opportunity to live at the top of a mountain? Why not settle at 10,152 ft above sea level, in a town steeped in history that strives to "promote a lifestyle as unique as Leadville's. Its history, environment, and location help create people who are tough, healthy, and totally down-to-earth"?
This single family resi
dence located at 331 E 6th Street, Leadville, CO has plenty of yard space and storage opportunities and is situated right in the heart of town.
The Gem on 6th Street
This cozy home features 3 bedrooms, 2 full bathrooms, a large kitchen and open living and dining areas. The owner took great pride in this residence, completing several upgrades and putting much care into it over the years.

Improvements include:
newer roof, gutters and skylights
newer paint, ceiling fans, and some lighting
carpet throughout the home
exterior fenced yard
built-in bar on the deck
a garden area
Great Floor Plan
This well thought out floor plan features a master suite and private bath, on one end of the home for maximum privacy. You can entertain weekend guests and still have a personal refuge at the opposite end of the home. Storage is ample in this single family home, there is even a crawl space for additional storage under the home.
North America's Highest City
331 E 6th Street in Leadville, Colorado offers you mountain living at its highest! Leadville is the highest incorporated city in North America. It is also the home of Colorado's two tallest fourteeners, Mt. Elbert which is Colorado's highest point at 14,433-feet and Mt. Massive, 14,421-feet. Walking through downtown you will see these magnificent views, and be able to shop, enjoy restaurants and  find fun activities for all.
Call today to find out how you can secure your place at the top of the world!