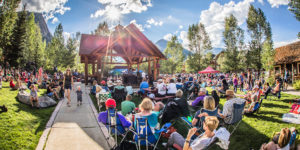 It's officially SUMMER and the Town of Frisco's Concert in the Park series kicked off Thursday, 6.25.20, although in a different way than years past. Instead of congregating in the Frisco Historic Park for an evening of live music, picnicking, and supporting our favorite non-profits by purchasing beverages and snacks, we are live streaming to our own decks, patios and living rooms.
Why Live Streaming?
The COVID-19 worldwide pandemic is causing towns, businesses, and individuals to get creative and flexible. Currently, Summit Public Health orders allow for outdoor event gatherings of 175 people or less in order to slow the spread of COVID-19. Typically, Concerts in the Park draw much bigger crowds than this which means that in order to meet public health guidelines and have a positive impact on keeping our community healthy, the town needed to rethink how to make this popular event happen.
For now, concerts will be played at the Ten Mile Music Hall on Thursdays from 5:30pm – 7:30pm,  June 25, 2020 through August 20, 2020.
The Nonprofits
Concerts Not in the Park are still an avenue for non-profit fundraising. Each week, a different local non-profit, is the beneficiary of fundraising. In years past, they received 100% of proceeds from snack and beverage sales. This year, it is VERY important that patrons donate to the non-profit of the week! Here is a list for easy reference, and you can check out the Visit Frisco Facebook Page or the Town of Frisco website for more information.
High Country Conservation Center
Family &  Intercultural Resource Center
Can you attend in person?
Maybe. As a means of fundraising, each of the nonprofit partners will be allowed to sell a limited number tickets for their concert. A total of 7 tables are available for sale and will hold a maximum of 3 people. Individual tickets will NOT be for sale; just tables and non-profits will set the price and provide a way to purchase tickets. For this week's concert, Summit Musicians Relief Fund will be giving away 5 tables with up to 3 seats at each table on Krystal 93. The giveaway is sponsored by Affordable Music in Dillon.
July 2, 2020 Concert
This week's concert is New Family Dog. They combine funk and jazz roots with bluegrass music. According to the Visit Frisco page, "With a repertoire of 500-plus songs, including hundreds of originals, New Family Dog brings forth echoes of Miles Davis and Stevie Wonder to present an inspiring showcase of original and tastefully chosen pieces from the canon of American funk, rock, and jazz. Their vocal harmonies have a truly family sound. Front man Jon Ridnell has toured the world as a professional guitarist for over three decades, and performance highlights include the celebrated HORDE tour. The band has also grown in size to include a three-piece horn section."
The concert can be live streamed on the Town of Frisco Youtube channel or on Facebook at the Visit Frisco page.
We're going to leave you with a video of New Family Dog and remember to listen to Krystal 93 for a chance to win a table at the July 2 concert!